Será Que os Juros Vão Subir Ano Que Vem?
Posted by Helena Grossberg on Wednesday, May 5, 2021 at 11:34 PM
By Helena Grossberg / May 5, 2021
Comment
Até agora, as taxas de juros continuam oscilando em torno de 3%, incentivando muita gente que ainda quer entrar no mercado imobiliário e comprar algum imóvel. No entanto, há uma boa chance de que as taxas aumentem este ano e ou no começo de 2022, tornando mais caro algum empréstimo imobiliário. Aqui vai o que vários especialistas têm a dizer:
"Nossa visão a longo prazo para as taxas de hipoteca em 2021 é de uma alta. À medida que as perspectivas econômicas se fortalecem, graças ao progresso contra o coronavírus e às vacinas, além de uma dose de estímulo do governo, isso aumenta as expectativas de crescimento econômico. . ."
"Em 2021, acho que as taxas serão semelhantes ou um pouco mais altas. . . as taxas de hipotecas continuarão historicamente favoráveis."
"Prevemos que as taxas de hipotecas continuarão subindo até o final do próximo ano. Estimamos que a taxa de juros de uma hipoteca fixa de 30 anos ficará ao redor de 3,4% no quarto trimestre de 2021, subindo para 3,8% no quarto trimestre de 2022."
Abaixo vão as previsões de taxas de hipotecas mais recentes de quatro autoridades importantes - Freddie Mac, Fannie Mae, the Mortgage Bankers Association (MBA), and NAR: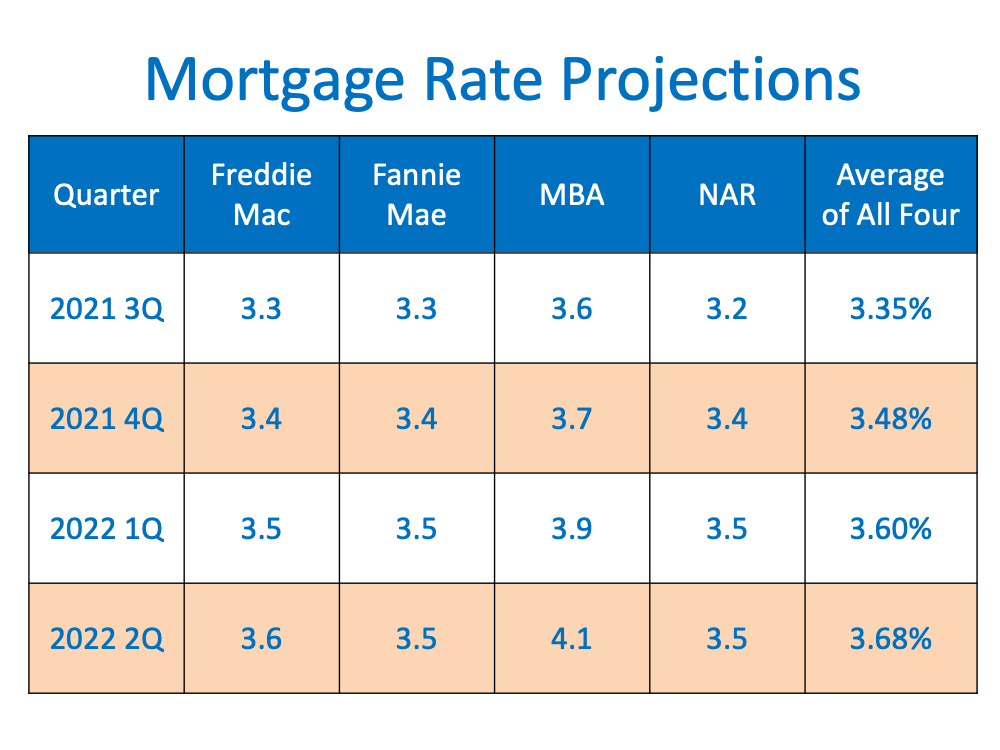 BOTTOM LINE
Se você está planejando comprar uma casa, comprar antes de qualquer aumento das taxas de juros da hipoteca pode ajudá-lo a economizar significativamente ao longo da vida do seu empréstimo.
Quer saber mais?
VENHA CONVERSAR CONOSCO.
Temos opções maravilhosas pra você.
COMPRE & VENDA COM SEGURANÇA.
Ligue/Text 1 (954) 809-5318
So. Florida: Closed Sales, Average Prices, Inventory, and Time to Close:
MARCH 2021: Broward | Miami-Dade | Palm Beach | St. Lucie