O Aumento Nos Juros de Hipoteca e Suas Principais Razões
Posted by Helena Grossberg on Tuesday, October 5, 2021 at 2:21 PM
By Helena Grossberg / October 5, 2021
Comment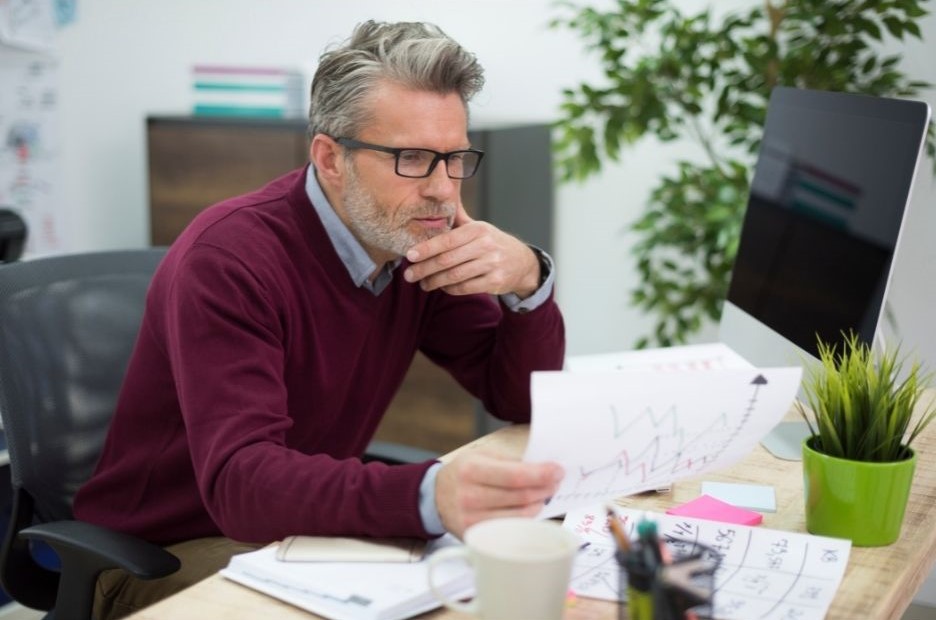 Toda quinta-feira, Freddie Mac divulga os resultados de seu Primary Mortgage Market Survey que revela o movimento mais recente da taxa de juros para hipoteca fixa de 30 anos. Na semana passada, a taxa foi anunciada em 3,01%. Foi a primeira vez em três meses que o juros ultrapassaram os 3%. Em um comunicado à imprensa que acompanha a pesquisa, Sam Khater, Economista-chefe da Freddie Mac, explica:
"As taxas de hipotecas aumentaram em todos os tipos de empréstimos esta semana, com o rendimento do Tesouro dos EUA de 10 anos alcançando seu ponto mais alto desde junho."
O motivo pelo qual Khater menciona o rendimento do Tesouro dos EUA de 10 anos é porque tem havido uma relação muito forte entre este rendimento e a taxa de de juros de hipoteca de 30 anos nas últimas cinco décadas. Aqui vai um gráfico que mostra essa relação: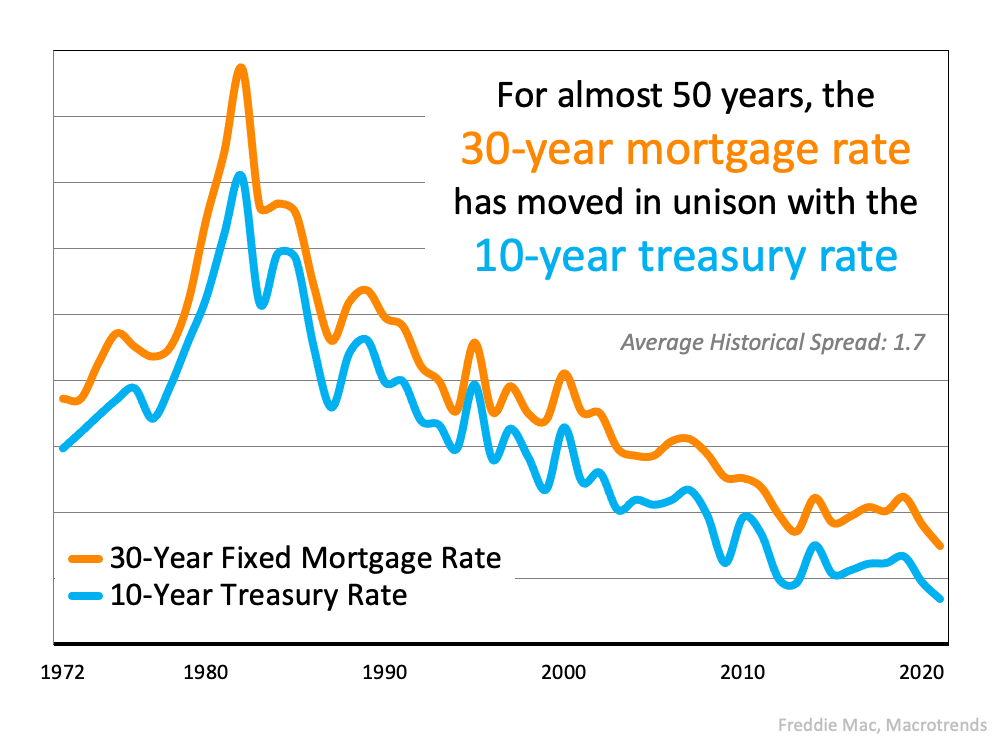 A relação também foi consistente ao longo de 2021, conforme evidenciado por este gráfico: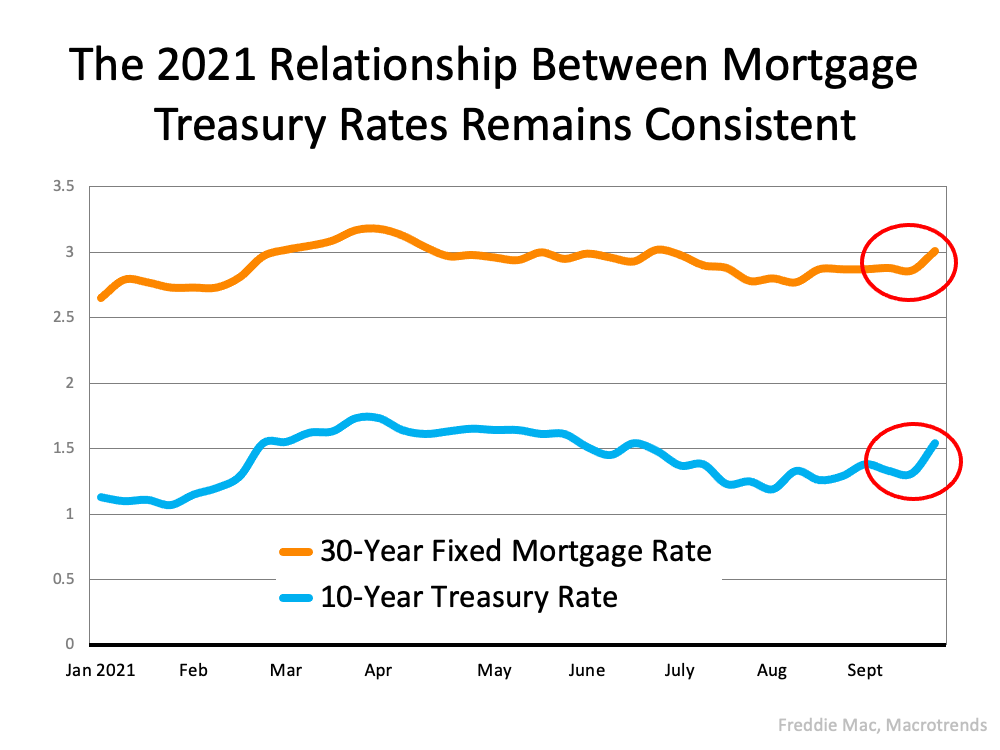 O gráfico também revela que o salto mais recente nas taxas de juros de hipotecas foi precedido por um salto na taxa de 10 anos do Tesouro (destacada pelos círculos vermelhos).
Então, o que afeta valor dos ganhos?
De acordo com Investopedia:
"Há uma série de fatores econômicos que afetam os rendimentos do Tesouro, como taxas de juros, inflação e crescimento econômico."
Como atualmente há preocupações com a inflação e o crescimento econômico devido à pandemia, o rendimento do Tesouro disparou na semana passada. Esse aumento afetou as taxas de juros das hipotecas.
O que significa isso para você?
Khater, no lançamento do Freddie Mac mencionado acima, diz:
"Esperamos que as taxas de juros das hipotecas continuem subindo modestamente, o que provavelmente terá um impacto sobre os preços das residências, fazendo com que eles moderem ligeiramente depois de aumentar em relação ao ano passado."
Nadia Evangelou, Economista Sênior e Diretora de Previsão da National Association of Realtors (NAR), também aborda o problema:
"Os consumidores não devem entrar em pânico. Lembre-se de que, embora as taxas aumentem nos próximos meses, elas ainda estarão historicamente muito baixas. A National Association of REALTORS prevê que a taxa de juros das hipoteca fixa de 30 anos cheguem a 3,5% em meados de 2022."
BOTTOM LINE
É muito difícil prever até que ponto cheguem as taxas de juros de hipotecas. Como Mark Fleming, Economista-Chefe da First American, disse uma vez, brincando::
"Sabe como é, a previsão econômica é como a meteorologia, é melhor nunca tentar prever as taxas de juros e, mais especificamente, se você for um economista imobiliário, nunca prever as taxas de juros, porque invariavelmente você vai estar errado."
Dito isso, se você é um comprador de primeira viagem, ou um proprietário atual que está querendo se mudar para uma casa que se adapte melhor às suas necessidades atuais, mantenha-se informado sobre o que está acontecendo com as taxas atuais de hipoteca. Com certeza, isso pode ter um impacto muito grande na sua decisão.
Quer saber mais?
VENHA CONVERSAR CONOSCO.
Temos opções maravilhosas pra você.
COMPRE & VENDA COM SEGURANÇA.
Ligue/Text 1 (954) 809-5318
So. Florida: Closed Sales, Average Prices, Inventory, and Time to Close:
AUGUST 2021: Broward | Miami-Dade | Palm Beach | St. Lucie