How to Sell and Buy a New Home at The Same Time
Posted by Helena Grossberg on Tuesday, March 22, 2022 at 7:46 PM
By Helena Grossberg / March 22, 2022
Comment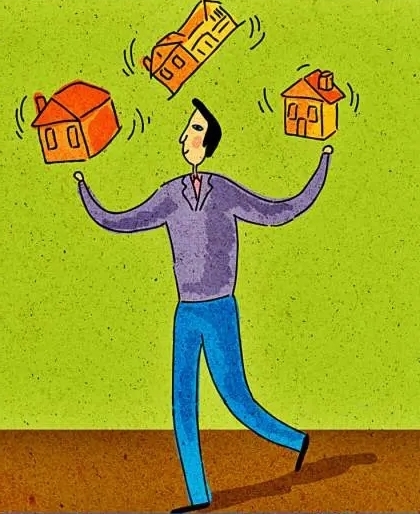 Did you ever wonder how to buy and sell a house at the same time? You are not alone, as many people ask real estate agents how to sell their own homes and buy another one simultaneously.
And it's not like you buy and sell houses every day, so a reasonable question to ask. It can be more of a challenge in a seller's market where home inventory is scarce.
Selling your old home will be easy in today's market. It's finding the new house that could be a problem.
Unless you are one of the rare homeowners with the financial ability to pay two mortgages at once, buying a home before selling your current home is not an option.
Given that you need to sell your current home to pay for a new one, you will need to prepare yourself for a certain level of uncertainty. Even doing everything right, you may find yourself in limbo for a short period. Take heart, though. Most homeowners can sell their homes, purchase a new home, and move before renting temporary housing. It happens quite often that buying and selling coincide.
How Selling And Buying a House Simultaneously Works
The home buying and selling process can be time-consuming, and there are few guarantees. Unless you have a highly desirable home and are willing to part with it for only a fraction of what it is worth, you will probably need some time to sell it.
The fact that you will need to spend time selling your home means that buying another home simultaneously is typically not a workable proposition unless you are willing to pay for both houses at the same time.
Even if you are willing to take on two house payments simultaneously, will lenders be willing to lend you money on both homes at the same time? Unless you are very well off, with valuable assets to put up against the loan, lenders will probably not be interested in taking on the risk.
You should expect to sell your current home before purchasing a new home. It may take some work and a little bit of faith, but you can do it. Many other homeowners have done the same thing, and so can you.
Find Out Whether You Can Do a House Buy and Sell at The Same Time
The first step in buying and selling a house at the same time is to find out what you can do financially. It will be worth your time speaking to a mortgage lender to find out your options.
The mortgage lender will take a hard look at your financial situation, including current income and cash on hand for a down payment.
Mortgage companies will do thorough research to determine if you can afford to carry both mortgages simultaneously. The lender will also look at how long you will comfortably make both payments before it becomes a financial burden.
If you don't have significant funds in reserve, selling and buying at the same time might not make financial sense unless you're a risk-taker.
Home buyers ask real estate agents all the time how much do you really need for a down payment.
Use a Bridge Loan
In years past, a bridge loan used to be far more common. Many lenders no longer do them and instead qualify you for a new mortgage.
A bridge mortgage is a short-term loan used to bridge the gap between buying your next home and selling your old house. Some folks want to buy a house before they sell. You may not have enough money to purchase the next home in that circumstance. If the borrower qualifies, a bridge loan will be used to help buy your new place, or getting a second mortgage is probably the best option. Others might take a home equity loan on their current home, if they have enough equity. In the past year, home owners gained enough equity in their current home to allow them to use it to put down in a new home.
Do You Qualify to Carry Two Mortgages?
Today, most lending institutions will look to see if you can afford to carry two mortgages simultaneously. You will need to qualify to pay mortgage payments on two properties. Getting two mortgages is almost always the best way to buy and sell a house at the same time.
Another option that some people look into is either a home equity loan or a home equity line of credit. Let's look at some of the less desirable house buy and sell options.
The Sale of Your Current Home Shouldn't Be Tied to Finding One
Put yourself in the buyer's shoes for a minute. You are out looking at homes and find the one you love. When reading the fine print in the listing, you discover that it says something like "subject to finding suitable housing."
As a buyer, how can you begin to think about spending money on a home inspection, applying for financing, hiring a title company, if, in fact, you really might not be getting the house? Who wants to throw that kind of money away?
More importantly, what if the closing date that is coming up shortly? They will need to know if they have a new home or not. Otherwise, they will be out on the street with nowhere to go.
Any excellent real estate agent will tell you that getting top dollar for your property is all about supply and demand. The more potential buyers there are for your home, the better.
The importance of pricing your property just right is the key to selling fast.
How About Buying On Contingency?
Once upon a time, there was a way to make an offer to purchase with a home sale contingency. Essentially a home sale contingency allows buyers to make their purchase subject to selling their home. It's more common in a buyer's market and non-existent in a seller's market.
Buying on the contingency of selling the buyer's house is a risk, because the seller might not complete his sale, if the buyer does not sell his original house. Therefore, it might not be an acceptable offer. How would the seller know the buyer had the right price on his home and did what it takes to sell the property? The seller in this situation is at the mercy of their buyer doing what's necessary.
Today, it is nearly impossible to find a seller who will accept this deal. Why should they? There are lines out the door of willing homebuyers who can make a non-contingent offer.
The #1 way of selling and buying a home simultaneously is to sell first and then buy.
Proof You Can Buy Before Selling Via Mortgage Pre-Approval Letter
Sometime a buyer presents an offer without the ability to come through with the money to pay for the property. That is why it is important to present proof of funds, or a pre-approval letter from a lender.
Even when you receive an offer from a buyer who currently owns a home, you should always ask for language to be inserted into the pre-approval letter that says getting the mortgage is not subject to the buyer closing on their current property.
An experienced real estate agent will always make this request.
Taking The Right Steps to Sell a House Before Buying
The following steps are what most prospective buyers make when they currently own a home but want to buy another one. Having a proper game plan will allow you to buy and sell a home at the same time.
Spend Some Time Searching For Your New Home First
When you sell your current home, you want to find another house quickly and get it under contract. Make sure your offer will stand out in the current market where multiple offers is common.
Spend some time with your Realtor to discuss your desires, and get serious about finding where you will buy and what types of properties you are willing to make offers on.
List Your Current Home For Sale First
Now you take the plunge. Have your real estate agent list your home for sale. Just make sure you the house is ready to be listed. You want to tackle the basic work to be done, clear the house of junk but leave the major projects of renovations to the buyers who might want to personalize to their own tastes.
A buyer will give you a long closing to find your new house in the perfect world. Finding an accommodating buyer will be far less objectionable than putting a disclosure on the purchase of finding suitable housing.
To sweeten the pot and get a more extended close date, you could also offer to pay the buyer's rent until you buy a new home or give them a further discount on the price of your home. An additional option is to lease back the property from the new buyer until your own purchase is final.
Make an Offer on a Home
When you get an offer on your home, you can design it your own way. You will need to structure your dates in the contract to have as limited risk as possible. For example, you will want to make your mortgage contingency match your buyer's mortgage contingency date in the contract to purchase your home.
As long as both offers go through, you should be able to sell and buy very close together. The majority of homeowners manage to do this without even needing to rent temporary housing.
On most occasions, when buying and selling a home at the same time, the closing for both the buy and sell will happen on the same day. The home you are selling will close in the morning and the home you are buying in the afternoon.
What is The Worst-Case Scenario When Buying/Selling Concurrently?
When you are trying to sell your home and buy another in a short period, the worst-case scenario is getting your home sold and then finding you don't have anything suitable to purchase.
While this does not sound all that inviting, it isn't the end of the world. You are going to need a backup plan for a few things.
More than likely, the furniture will be in storage for a short while and temporary housing will be necessary. Finding a short-term rental will allow you to search more comfortably at your leisure.
A temporary place may not be ideal, but it will also probably be a situation you laugh about years from now when you are comfortable in the dream home you love.
BOTTOM LINE
No doubt selling and buying houses in the same time frame creates a lot of stress. There is constant worry if everything is going to work out as planned. It almost always does. Having a sound game plan and working with a top real estate professional can help you achieve your goals. If you want to know more, let's talk about.
Remember that we can also do financing, and we have access to several banks that will provide many types of loans for you.
We can prepare the Pre-Qualification letter or obtain the Pre-Approval letter directly from the bank, facilitating your purchasing process.
Do you want to know more?
LET'S TALK ABOUT IT.
We have wonderful opportunities for you.
BUY & SELL WITH CONFIDENCE.
Call/Text 1 (954) 809-5318
Helena Grossberg NMLS# 2136951
Innovative Mortgage NMLS# 250769
So. Florida: Closed Sales, Average Prices, Inventory, and Time to Close:
JANUARY 2022: Broward | Miami-Dade | Palm Beach | St. Lucie